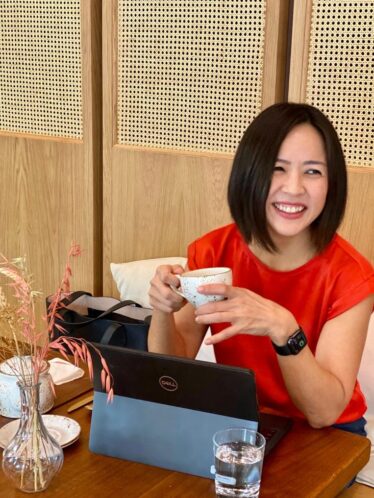 03 Nov

Working from home

Work/Working from home ("WFH") or a hybrid of working in the office and from home has become the new normal.  Is it sustainable in the long term?  Would it compromise one's career prospects?

We speak to Kay Pang, Senior Director & Associate General Counsel, Global Markets Compliance Officer (APJ, EMEA & LATAM) of VMware, a mother of 2 kids and who has been WFH for more than a decade, about the ins and outs of remote working.

I believe you started remote working from 2008 while you were with HP – why and how did this happen? 

It started with a necessity.

Back in 2007, I was a litigation lawyer on track towards partnership at Drew & Napier when I gave birth to my first child, Paul.  Paul was born with medical challenges which necessitated round the clock care and numerous trips to hospitals.  I was no longer able to carry on the demands of my work and had to leave. My boss offered me 6 months of no pay leave, but that didn't work as I also needed income to meet the escalating cost of medical care for Paul.

I tried to look for an in-house role that would offer me some flexibility. Such a request was almost unheard of then.  At one of the interviews with a bank, I was told point-blank that flexi-hours or WFH would be impossible.

I eventually joined HP as their Singapore Counsel.  The HP Legal Department likewise had a work from office rule.  However, I knew that I would like the option of being at home some days to keep an eye on Paul.  My boss at that time was David, a hardworking American with no family or kids so my chances were not great.  Nonetheless, I plucked up the courage to ask.  I was careful to let him know that if granted, it would be a tremendous privilege which I promised not to abuse.  David looked at me very sternly and said "We have a strict rule in HP which requires every lawyer to be in the office".  My heart sank.  But David continued "However, for every rule, there are exceptions and I would gladly make an exception for any mother and child.".  I was delighted!

Prior to this year, it would have seemed impossible for someone to WFH.   Why do you think it has worked out so well for you?

I make sure I am deserving of the privilege and give no one any excuse to find fault in it. Every piece of work is done to the highest standard and that I am available virtually and will respond promptly.  I am grateful that in HP, Cloudera and now in VMware, I have been given promotional opportunities in various roles.

Working for tech companies has also meant that we have the capabilities to enable WFH smoothly.  With mobile devices and secure remote access, I am enabled to perform all tasks anywhere.

Finally, of great importance is the culture of trust and culture of excellence, and each works both ways between employer and employee.  I only have to make sure I meet that high standard of excellence in my work, knowing that I have my employer's and clients' trust.

Were there ever times you felt that WFH entailed a trade-off, career wise, or that you were somehow being taken less seriously?

As WFH was still a foreign concept to many outside of the tech industry previously, I did have trouble convincing my family and friends that I had a "real job" after I left private practice.  This was especially when they saw me at home or still being able to attend parent-teacher meetings during office hours.  However, within the tech industry, WFH has become commonplace through time and  I don't think there was any trade-off. Perhaps I missed a few networking opportunities here and there, but I was always present for any face-to-face meetings in the office and calls.

It was not so much of the fact that I was WFH, but that I was simply a "mother with young kids" that was once raised by a male colleague when I was being considered for a promotion.  My manager at that time, also a mother, quickly shot that down and pointed to all the times where I had proven my competency, skills and dedication to my role, and the fact that I was a working mother only spoke to the ability to prioritise and be efficient.

On that point – it must be hard to juggle work and your role as mum at the same time, especially when one is WFH – how do you manage that?

I don't think there is a magic bullet or a perfect answer here.  Everyone struggles whether or not we are parents raising kids, caring for elderly/ill, or simply having to do more than the time and resources we are given. However, the notion of child-raising being primarily a woman's duty makes the struggle greater.  When both parents WFH, who does the cooking, cleaning and helping kids with schoolwork? I believe if housekeeping and child-raising are shared between parents, things become more balanced.

That said, as I'm a single mum, I get to do it on my own and cherish the fact that WFH gives me the flexibility of being able to work and care for my kids.  But I am no superwoman and more often than not, balance is elusive.  I just try to keep my days organised in segments so that I am present and only wear one hat at a time, even if I end up wearing various hats in a day. I am also encouraged by Ruth Bader Ginsburg's advice on work-life balance when she said, "Each part of my life provided respite from the other and gave me a sense of proportion".  I also love Tiffani Dufu's idea of "dropping the ball" – where we achieve more by doing less.  I drop balls all the time!

Did you ever feel isolated? 

I should say at the outset that what we are going through now, is not WFH as it is normally understood.  In my 12 years of WFH pre-Covid, what it meant to me was flexibility and autonomy of deciding when I would work at home and in the office.  The option of going to the office to meet with colleagues or clients, to have lunch or to catch up on the water cooler talk was always there.  More often than not, I would be in the office either a few hours a day or a couple days a week to do just that so that I won't feel isolated or distant from my team.  Now with Covid, WFH seems isolating only because our in-person interactions are curtailed, and it is certainly not normal WFH.

What advice would you give to your younger self  – or your team members – about WFH?

It would be what I remind myself everyday – that WFH is a privilege not to be abused.  Our employers place a lot of trust on us to continue to perform when we WFH, and it is then on us to strengthen that trust by delivering excellence.  I do tell my team that I don't care where and when they work, but I do care that we deliver work to a high standard.  Trust and excellence go hand in hand.